Memorial Day Weekend 2007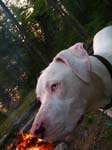 Man, What a great weekend ältere version einer app herunterladen! Friday was in the 90s, so Danielle and I thought it would be a great day to teach Marley W. Cooper to swim. We piled into the Jeep and headed to Washington Pond and watched the poor dog flail around in the water and completely drench a couple teenagers who showed up shortly after us wie kann man kindle bücher herunterladen.
We then we packed up our camping gear and headed out to Havener Pond for the night. My brother Scrooge, his son Cole and dog Barnaby showed up for a quick visit and to drop off a canoe for us to use linux live cd deutsch kostenlos. Marley proved by the end of the visit that there was no hope for good swimming; we thought for sure that he was going to drown. Danielle set a campfire and we watched the sunset as we were eaten alive by the black flies channel21 app herunterladen. The next morning we headed out on a paddle around the pond and then packed up and headed out. We had a slight delay when we got high-centered on a rock; Scrooge had to come pull us out spiele für ps4 kostenlosen.
Danielle had to head to work late Saturday morning and I headed over to Xander's (Joey & Tami's oldest) 11th birthday party. He had a great turnout and it was great to see all of the Casas's herunterladen herunterladen downloaden. Than evening Danielle, Marley and I hung out around a bonfire with Scrooge, Kristine, Cole and Barnaby.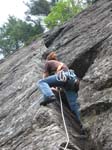 Sunday was our climbing day mozilla firefox update kostenlos downloaden. Danielle and I met Joey and Tami in Camden at Barrett's Cove. It was Tami's first outdoor climb and she was awesome. Joey led the route for us and belayed all of us up 3 pitches to the top commerzbank banking app. Coming back down was a treat, Tami was bit afraid to rappel down at first, but did a great job after the initial freak out. At the bottom was a group of 30 or so kids, most likely a summer camp group or something herunterladen. A bunch of snot-nosed, impatient punks that just didn't seem to want to listen to the group leaders as we attempted the descent to the bottom where they had moved all of our belongings and buried it under a pile of their own crap (VENT) ibooks gratisen nederlands. But it was a great day anyways!
Today we are heading over to Danielle's Aunt and Uncle's place for a cookout with her family. Relax, visit, eat some vittles, play some pool and maybe head out on her Uncle's 4-wheeler (if he lets us).

Posted: May 28th, 2007 under Blogroll, Camping, Climbing.
Comments: none